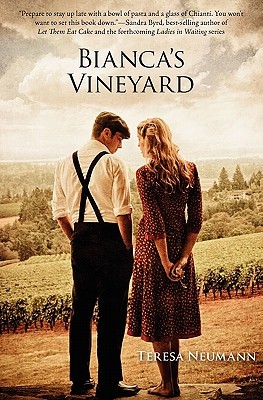 BOOK TITLE: Bianca's Vineyard
AUTHOR: Teresa Neuman
GENRE: Fiction
NUMBER OF PAGES: 412
FORMAT: Digital - PDF
SERIES / STANDALONE: Standalone
REVIEW BY: Shree Janani
HOW I GOT THIS BOOK: Review copy as a part of Italy book tours. Thanks guys!
SUMMARY :
Bianca Corrotti's vineyard is more than a piece of mouth-watering real estate in Tuscany. It's an inheritance; a storehouse harboring the secrets of her Uncle Egisto, a world-class sculptor, and his troubled wife -- a woman whose destiny converges with Mussolini's when WWII overtakes them all. Based on a true story, Bianca's Vineyard follows a devoted family of strong-willed men and lion-hearted women waging an epic battle against a gathering storm intent on destroying their lives
REVIEW:
The cover and the summary work in tandem to make you believe that the story is going to turn out to be one of these drool worthy Italian romance stories that make you wish you were born in Italy. This story, is nothing like that. The story is about a traditional Italian family set in Tuscany during World War II time. The book opens with Bianca, one of the characters, narrating her uncle Estigo's story and eagerly waiting for her extended family's visit from the United States. Estigo, like every other man from Italy, leaves to US in search for better prospects. Being a fine sculptor he eventually finds job. Before he leaves, he marries the bold and impulsive Armida. What follows is their story pacing back and forth between US and Tuscany.
The story stretches over years making it a long read. More than a proper story, this story felt like an account of a particular Italian Family's tale – a tale that is filled with normal mundane issues that every family faces, with the exception of a World War in between. This made the book a little boring at times.
The characters were all undoubtedly realistic, thanks to the fact that this is a semi- real life account. The writing was a mix of excellence and semi-boredom. I'm thoroughly confused if I really like the writing or not! The characters contributed to much of how the book is looked upon. I'd say, thanks to the characters, the writer could actually escape with a not so great story line.
I'd say this book is worth to be something like a TV Mini series that BBC would probably telecast. One thing I thoroughly enjoyed was the description of Italy and its enchanting Vineyards. Though the characters were over powering and distracting me from enjoying the set up, I still managed to love that!
VERDICT: Beautiful read that needs a lot of patience.