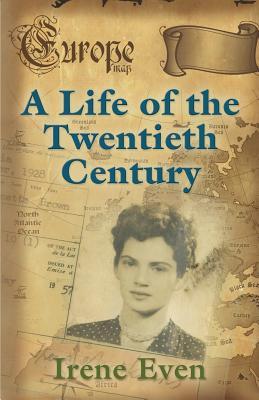 BOOK TITLE: A Life Of The Twentieth Century
SERIES / STANDALONE:
Standalone
HOW I GOT THIS BOOK:
Review Copy as a part of iRead Book tours. Thanks Laura & Irene
A Life of the Twentieth Century
is the story of Aya, who lived through the loss of her parents before the age of 3. At the age of twelve she was sent to a boarding school in Budapest, that closed after one year, because the Nazi army marched into the city.

Aya was left totally alone to face the Nazi occupation, and to experience all the horrors of the war. She faced many life threatening situations, such as prison, bombardment or even the possibility of being executed on the spot, without really comprehending the gravity of it all. The end of the war was supposed to mean liberation, the return of hope and freedom for most people, however it didn't happen for Aya, who was part of a youth group on her way to Palestine. The destination of this youth group was to reach Italy and the Jewish Brigade. They crossed the Alps on foot from Austria to reach Italy. As they reached their destination Aya met a soldier from the Jewish Brigade, who was supposed to be her Hero, her Saviour, but turned out to be the devil incarnate. From day one, this soldier of the Jewish brigade took control of Aya's life when she was only 15 years old.

After divorce, destitute and once again alone, she had no direction and almost no hope, when from deep inside her a small voice said; go back to school. It took all her courage to apply to university, where she was accepted and after 5 year was granted a B.A. and a Diploma of Teaching. She spent the rest of her life teaching, and as she contemplated her life she said to herself that if she had had all the choices in the world, she would have chosen teaching.
A autobiographical account of a holocaust survivor is every history lover's dream. Especially if the protagonist is a woman who has managed to survive the brutality of the war, the story would obviously be an astounding read. This book indeed was an astounding read. Reviewing an almost autobiographical account is a personal challenge for me for I haven't reviewed much books from this genre. I would like to split the review into three parts namely- the war part, Post war part and post relocation part.
The war part – Mild disappointment
The book begins with Aya's account of her dismal childhood and takes the readers on a journey of her escape from the Nazi brutality. Some parts of the whole escape scenario was a little surprising to me. I felt either the writer was plain lucky to have survived or she has done a fantastic job of hiding her true pain. I am inclined to believe the latter. Losing parents and surviving Hitler surely should have been immensely painful. The writer presented a toned down account of her life surviving Nazis and marrying without actually wanting to.
Post war account – Frustrating yet fascinating
This part of the book covers Aya's journey from Europe to Canada along her children and her husband. Aya apparently is a woman of immense patience. She ended up caring for her husband though he deserved none of it. Patience is a quality inherent to women. Aya is the perfect example. This story being a real life account helped the writer give immense depth to characterization. It felt like I personally knew each of the characters. Hats off mam for portraying people so well!
Post relocation account – an inspiration
It takes immense will power and determination to visit a place which is filled with horrid memories. Aya's decision to move to a different place and take up a career in teaching is truly inspiring. Learning a new skill past the prime age of learning isn't an easy task. Aya's determination to learn and teach students and to excel at it is indeed and inspiration
Overall, the book is one well written memoir of sorts which deserves a patient read. This book is not for those with an attention span of a firefly.
VERDICT:
A moving tale of a strong and inspiring woman
ABOUT THE AUTHOR:
Irene Even was born in Hungary. As a child she lived through the Second World War, using false papers to survive. After the war, she immigrated to Palestine, lived in a Kibbutz, then later married and immigrated to Canada with her family. She returned to Israel to teach English and remained there for twenty-two years. Having written her memoir,
A Life of the Twentieth Century
,
she now lives in retirement in Montreal.
EDITIONS AVAILABLE:
Kindle
BOOK LINKS: http://www.amazon.com/Life-Twentieth-Century-Irene-Even-ebook/dp/B00NJ520RO/ref=sr_1_1?s=digital-text&ie=UTF8&qid=1421958174&sr=1-1&pebp=1421958388750&peasin=B00NJ520RO