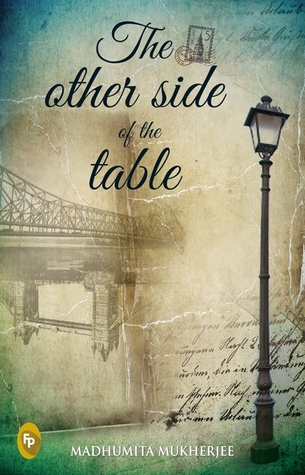 BOOK TITLE: The Other Side Of The Table
SERIES / STANDALONE:
Standalone
HOW I GOT THIS BOOK:
Review copy from Fingerprint! Publishers in exchange for a honest review. Thank you guys!
A world drawn and woven with words.
A bond punctuated by absence and distance...
Two continents. Two cities. Two people.
And letters. Hundreds of them.
Over years. Across oceans. Between hearts.
Between Abhi, who is training to be a neurosurgeon in London, and Uma, who is just stepping into the world of medicine in Kolkata.
As they ink their emotions onto paper, their lives get chronicled in this subtly nuanced conversation through letters ... letters about dreams, desires, heartbreaks, and longings... about a proverbial good life falling apart, about a failed marriage, a visceral loss, and about a dream that threatens social expectations...
Letters that talk. And don't. Letters about this and that. Letters about everything...
Letters with a story you would never expect
Yet another book that is written as a collation of letters! Is writing a story in the form of letters the latest fad?! Some writers weave exceptionally cohesive stories in spite of writing in a format that by default renders the story incoherent and there are the others, who are fascinated by the concept of "letter narration" and fail miserably at it. Uma and Abhi inadvertently end up being each other's punching bag.
This book/writer belongs to the neither category. Uma and Abhi exchange a series of letters until Uma finally lands in Abhi's doorstep. The letters are about mundane things to their lives' most important events.
The book opened with a great momentum, the letters back and forth seemed utterly fascinating. Unfortunately, there came a point when the narration got utterly boring and the story line began to slack. The pace had dropped so low that a novice reader would probably chuck the book midway. On the other hand, a seasoned reader would be patient enough to wait for the momentum to pick up. This is one such book that requires its readers to wait patiently for the pace to pick up.
The other major disadvantage of such a book would obviously be the story line itself - Unless the protagonists exchange chronicles of murder or some topic which could be classified as borderline explosive, narrating mundane emotions would certainly backfire. That is precisely what happened with this book. The writer promised an array of intense emotions in her summery, but ended up writing a bland story which lacked finesse to produce that emotional bang. Normally a story line containing a miscarriage, a brain tumour and a failed marriage (not in that particular order) would evoke a sea of emotions even from a seasoned reader who has probably shed more tears over characters than in real life people. This book managed to just skim through all those heavy emotions instead of creating a wave.
The writing isn't stellar either. The letters at time became a bit incoherent but the writer somehow managed to veer them back to track post an incoherent thread. This steering back tends to create a zigzag effect on the readers making them unsure of how to rate the book.
The characterisation is rather commendable. The writer has managed to show various shades of the protagonists in-spite of all those discoloured emotions she ended up with. The writer sure needs to be lauded for her effort to portray gender inequality prevalent amongst doctors. In fact, it was rather surprising to read that even such a critical profession suffers from the common evil of gender inequality. Hats off to the writer for bringing to light the stigma attached to a female surgeon. It is rather apparent that the writer might have had such an experience first-hand given that she is doctor herself.
In a nutshell, this book requires the patience of a season reader just for the discrimination thread of the story.
VERDICT: Not for people with a patience range of a teaspoon.
ABOUT THE AUTHOR:
Madhumita Mukherjee grew up in Delhi and did her medical education from Calcutta National Medical College. She has been living and working in England since 2001 as a Paediatrician. She has a special affinity for epistolary novels as well as novels written as journals and diaries like 'Diary of a Provincial Lady' by E.M. Delafield, and 'I Capture the Castle' by Dodie Smith. Besides these, she takes special interest in novels with medical themes such as 'A Country Doctor's Notebook' by
Mikhail Bulgakov
. Her message to the readers as a doctor is to never take health for granted.
EDITIONS AVAILABLE:
Paperback, Digital
PRICE:
Rs.160 (Paperback)
BOOK LINKS:
http://www.amazon.in/Other-Side-Table-Madhumita-Mukherjee-ebook/dp/B00BD2PL6W/ref=dp_kinw_strp_1