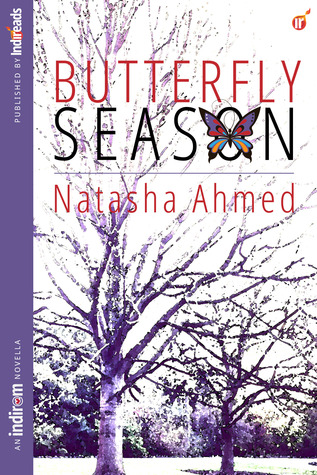 BOOK TITLE: Butterfly Season
SERIES / STANDALONE:
Standalone
HOW I GOT THIS BOOK:
Review Copy from Indireads in exchange for an honest review. Thank you guys for the book!
SUMMARY :
On her first holiday in six years, Rumi is expecting to relax and unwind. But when she is set up by her long-time friend, she doesn't shy away from the possibilities. Ahad, a charming, independent, self-made man, captures her imagination, drawing her away from her disapproving sister, Juveria.
Faced with sizzling chemistry and a meeting of the minds, Ahad and Rumi find themselves deep in a relationship that moves forward with growing intensity. But as her desire for the self-assured Ahad grows, Rumi struggles with a decision that will impact the rest of her life.
Confronted by her scandalized sister, a forbidding uncle and a society that frowns on pre-marital intimacy, Rumi has to decide whether to shed her middle-class sensibilities, turning her back on her family, or return to her secluded existence as an unmarried woman in Pakistan.
We follow Rumi from rainy London to a sweltering Karachi, as she tries to take control of her own destiny
A story about/set in my warring neighbor country - Pakistan never fails to pique my interest. After all, Pakistan was supposed to be a part of my own country and from what I have read and heard our cultures aren't different, yet there is subtle difference. To me, that subtle difference is beautiful. The writer has woven her story around the cultural mindset of the Pakistani culture.
The story opens with the protagonists Rumi and Ahad having a friendly banter about Karachi along with Rumi's friends Mahira and her husband. Mahira is apparently trying to set up Rumi with Ahad, just like a normal best friend would. Love eventually blossoms between them, but that have a huge price owing to the so called perception of culture by certain narrow minded individuals.Do they find themselves? Read the story to know that!
Being from India I could relate to the though process and culture that initially binds our protagonist. It is no big secret that the concept of dating is still frowned upon from the society that I come from.

The writer has beautifully portrayed Rumi's initial hesitation to get into a physical relationship. At one point in the story I could relate so much to Rumi's character for I also live amongst people with the same thought process in spite of being educated. Not that there is anything wrong with that line of thought. For example, pre-marital sex is a taboo. This stigma according to me was created so that women wouldn't be exploited by men who simply lusted after them. Every taboo/rule that a society imposes, according to me has a logical reason which is seldom thought upon.But at times flouting these rules for a wholesome good shouldn't be labeled as being rebellious.
The characterization was perfect. It is evident that the writer is a big fan of Rumi. The writer also managed to convey all emotions perfectly. I could almost imagine the expressions of Rumi!
The language with simple though few native Urdu words were infused in the story to make it sound a bit more realistic.
VERDICT: Nice Light Feel Happy read!
ABOUT THE AUTHOR:
Natasha Ahmed is a pen name. In real life, Natasha is a graphic designer, a businesswoman and occasionally writes art and book reviews for publications within Pakistan.
She works in a small office at home, not far from Sea View, Karachi. From a tiny window, she can see the Arabian Sea sparkling in the distance, and small fishing boats trawl up and down the water throughout the day. When she's not writing books, she's dreaming of setting sail towards the horizon and never looking back. Great adventure, she believes, starts with great daring.
Butterfly Season is her first novella, though not, she hopes, her last.
EDITIONS AVAILABLE:
Digital Only
BOOK LINKS:
http://www.indireads.com/books/butterfly-season/